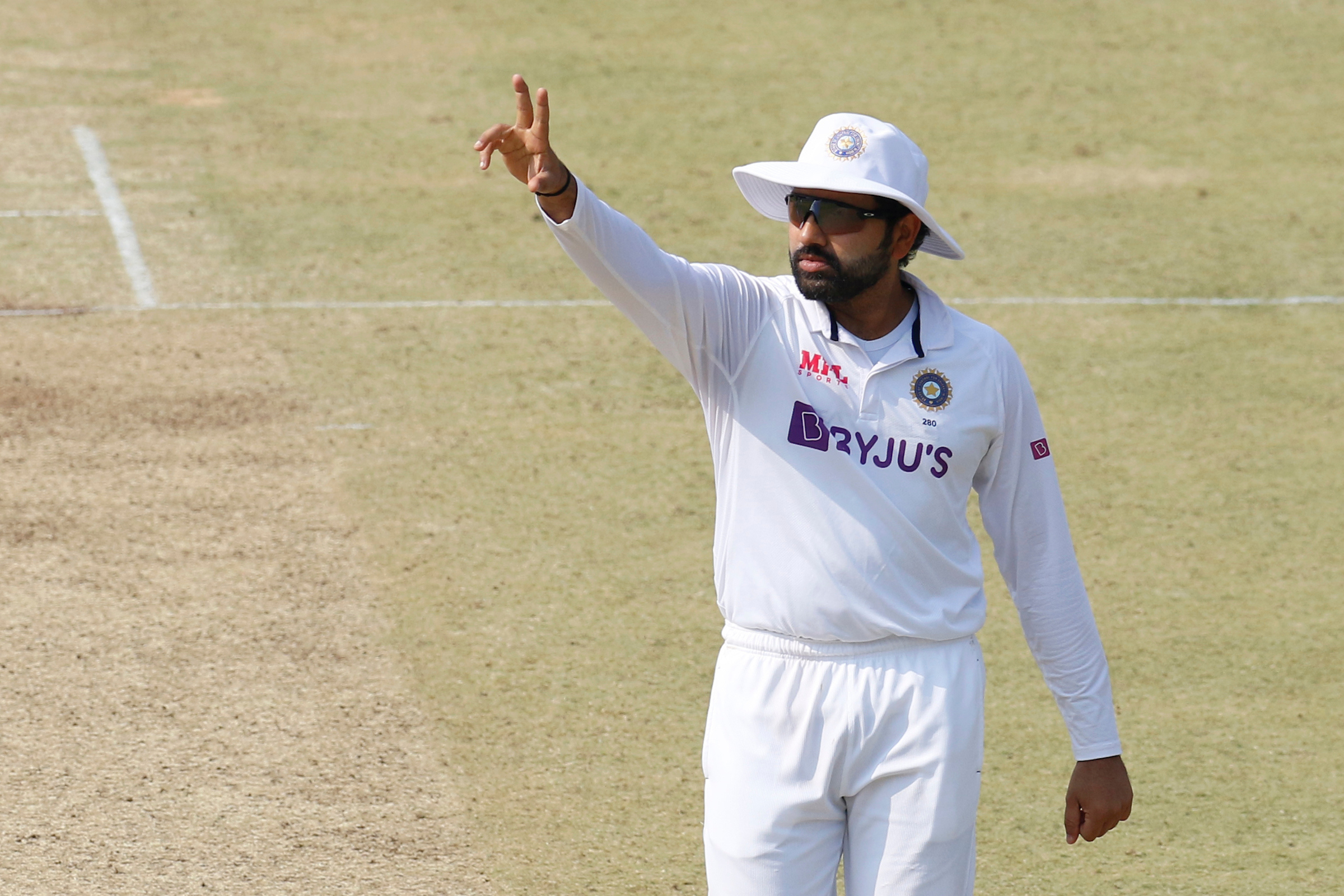 Bengaluru:- Dimuth Karunaratne scored his 14th Test century on a difficult pitch but it was not enough to deny India a win by 238 runs on Day three of the second Test at M Chinnaswamy Stadium here on Monday.
With the huge win inside the first two sessions on Day three, the hosts have completed a 2-0 series sweep and pocketed 12 points as part of World Test Championship (WTC) tally.
Karunaratne put up a defiant show against a relentless India bowling attack as Sri Lanka began day three on a positive note. The visitors showed some fight in the start of day's play as Karunaratne used his feet straightaway to take two boundaries off Ravindra Jadeja through the off-side. Runs began to flow for the visitors' as Kusal Mendis glanced and lofted Ravichandran Ashwin for boundaries.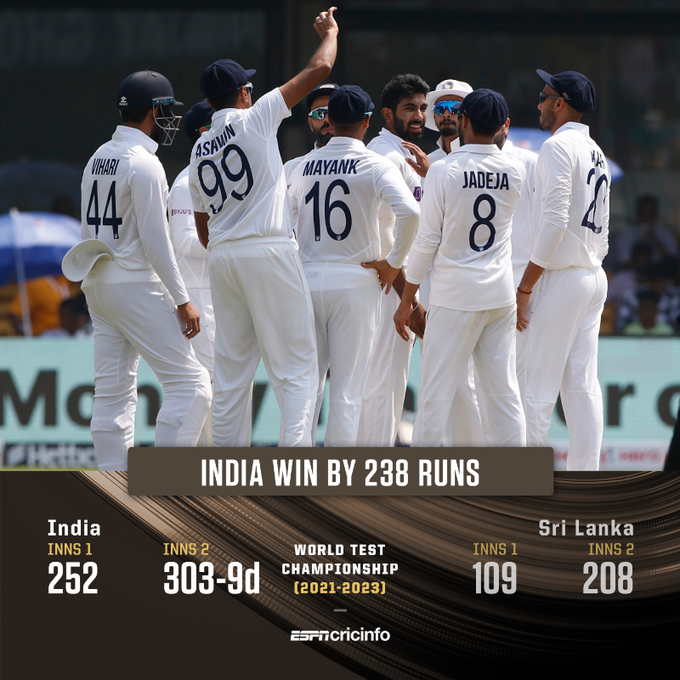 Sri Lanka's aggressive and positive play continued as Mendis swept Jadeja through deep square leg while Karunaratne was lucky in surviving an inner edge off Ashwin. The positivity and decisive attitude in play resulted in Mendis reaching his 12th Test half-century off 57 balls.
The 97-run partnership, highest for Sri Lanka in this series, was broken by Ashwin as Mendis was foxed by drift and dip from round the wicket angle. Mendis danced down the pitch to counter the delivery but the ball went past the outer edge and was stumped from behind by Rishabh Pant.
One brought two for India as Jadeja bowled a quicker delivery to hit Angelo Mathews stumps through the gate. Ashwin then claimed his second wicket of the session as Dhananjaya de Silva was caught at forward short leg, enabling the off-spinner to go past Dale Steyn in the list of leading wicket-takers in Test cricket.
Amidst the wheels coming off Sri Lanka's resistance, Karunaratne stood tall and brought up his fifty in 92 balls. He then welcomed Mohammed Shami with a four whipped through mid-wicket and danced down the pitch to flick Axar Patel through the same region. Supporting him was Niroshan Dickwella, who has managed to hold fort against a relentless India bowling attack.
Karunaratne began the post-lunch session by using the pace of Patel to lap over leg slip. But Patel bounced back to get Dickwella stumped as the left-hander came down the pitch for a swing across the line but the ball went past outside edge and Pant behind did the rest. Patel took his second wicket of the day as Charith Asalanka flicked straight to leg slip.
After a reverse sweep off Patel took him into the 90s, Karunaratne then played a conventional sweep over square leg for four. He then raised his century by flicking through backward square leg off Jasprit Bumrah, becoming only the third Sri Lanka captain to score a Test hundred in India. Karunaratne followed it up by using Bumrah's pace to steer a short ball over the slip cordon.
Karunaratne's resistance ended at 107 as Bumrah got one to come back in and went through his gate to crash into the stumps. In the next over, Ashwin beat Lasith Embuldeniya on the inside edge to trap him lbw in front of stumps.
Bumrah then clean bowled Suranga Lakmal and Vishwa Fernando holed out to mid-off off Ashwin to end Sri Lanka's innings at 210, their highest total in the two-match series.
Brief scores: India 252 and 303/9 d in 68.5 overs (Shreyas Iyer 67; Praveen Jayawickrama 4/78) beat Sri Lanka 109 and 208 all out in 59.3 overs (Dimuth Karunaratne 107; Kusal Mendis 54; Ravichandran Ashwin 4/55, Jasprit Bumrah 3/23) by 238 runs.
Would have been happier if we had won, says Dimuth Karunaratne
Sri Lanka captain Dimuth Karunaratne on Monday said he would have been happier if his team had won the second Test against India. Sri Lanka on Monday managed to delay the inevitable as Karunaratne made 107 against a relentless India bowling attack. But the visitors eventually lost the match by 238 runs and the series 2-0.
"I would have been happier if we had won. But it was a tough one, we batted under lights and it was tough. But I have worked hard on my batting. Once I got in, I knew I could get a big one," said Karunaratne in the post-match presentation ceremony.
Talking about where the Test side needs to work hard, Karunaratne remarked, "We have a good team, the batting didn't capitalize on these conditions, the bowling was good, but we kept bowling loose deliveries every now and then, that's what we need to work on going further. There have been several youngsters coming up and this was an experience for them."
Karunaratne signed off by wishing veteran pacer Suranga Lakmal good luck for his future after playing his last international match for Sri Lanka. Lakmal had signed an all-format deal of two years with county side Derbyshire.
"One of the best I have seen in my career. I am very happy for him that he's going to county cricket and I know he will do very well there as well. It has been special playing alongside Lakmal and I wish him well for the upcoming county season."
Bumrah's performance was magnificent, without a doubt, says Rohit Sharma
India captain Rohit Sharma heaped praise on pacer Jasprit Bumrah, saying that his performance in the second Test against Sri Lanka was 'magnificent'. In India's 238-run win over Sri Lanka in the pink-ball Test at M Chinnaswamy Stadium, Bumrah had an overall match haul of 8/47, including a maiden five-wicket haul at home in the first innings, excelling on a pitch where spinners were earmarked to do well.
"Bumrah's performance was magnificent, without a doubt. To come out and bowl like that in these conditions shows how many skills and abilities he has. Someone like Bumrah is never out of the game. Whatever the conditions are, he is always in the game. It gives the captain a lot of benefit in rotating the bowlers and get the best out of each bowler when you have a quality player like Bumrah in the team,"" said Sharma in the post-match virtual press conference.
Sharma explained how Bumrah can perform well in different conditions irrespective of home and away venues.
"He understands the conditions really well, that is his plus point. To bowl on certain pitches, you need certain skill sets and he seems to be bringing the skillsets into the conditions and in the game, depending on what sort of offer he has from the pitch."
"Mohali, we saw a different sort of pitch but he was still effective there and got few wickets as well. This (Bengaluru) was a completely different pitch. It was assisting spinners a lot, turning and bouncing, everything was happening for spinners. But Bumrah, with the kind of skills he has, coming and hitting the stumps all the time. If there is any lateral movement, he is always in play. I thought he showed that pretty well."
Sharma reminded of Mohammed Shami, who alongside Bumrah brought critical breakthroughs for India in the first innings.
"Not to forget Shami also, in the first innings, he got a couple of wickets and crucial breakthroughs under the lights was brilliant. Both of these guys have been brilliant for India. Whatever conditions they play, they are always in the game because they got high skillsets. They can reverse the ball, bounce the batsmen out and have got so many variations as well. To have someone like them in the team is always a good thing."
Asked about the frequency of seeing Bumrah play in Test matches at home, Sharma assured that the pacer will be seen in more matches in Indian conditions.
"Bumrah has not played a lot of cricket in India in terms of red-ball cricket. With two against England and two here, so he's played four Test matches here (in India) and it's not a lot. But keeping everything in mind, the workload of the bowlers, we have to rotate these guys continuously playing Test cricket."
"So, we need to look after them and hence, he's missed a lot of games. When you speak to someone like him, he's quite keen to make an impact in Test cricket. He wants to play a lot of Test cricket. Moving forward in coming months and years, you will see a lot of Bumrah playing Test matches in India and abroad as well."
Sharma signed off by saying that the manner of workload management of match-defining players like Bumrah will be a challenge for himself and the team management.
"But we need to look after these guys and make sure they are fresh so that they can be fresh and perform the way these guys have done here. But that's a challenge for us and how to do that is something we need to look at."
"We need to look at those kinds of things because, at the end of the day, you need these guys to be fresh and ready to go. Whatever it takes for us to do that, we will try and take those necessary steps."
Rohit Sharma 'very impressed' with Shreyas Iyer's performance on a difficult pitch
On the pitch at the M Chinnaswamy Stadium for the second Test between India and Sri Lanka, it were mostly the batters who looked to attack frequently rather than defend. This was precisely what Shreyas Iyer did in his Player of the Match performance against Sri Lanka in the pink-ball affair.
In the first innings, Iyer raced to 20 off 19, then brought up his fifty in 54 balls and eventually made 92 off 98 balls in an attacking show laced with ten fours and four sixes. In the second innings, Iyer didn't allow the Sri Lankan spinners to get the better of him, making 67 off 87 balls comprising nine boundaries. The impact of his twin fifties in India's 238-run win on a difficult pitch left captain Rohit Sharma 'very impressed'.
"Very impressed with his performance. Not easy to play on these kinds of pitches, especially when you are playing your third or fourth Test match; it's never easy. I thought he showed a lot of composure and understood exactly what he wanted to do on that pitch. It was very clear from the outside also that he had a plan," said Sharma in the post-match virtual press conference.
What impressed Sharma even more was the temperament and clarity Iyer showed in both of his knocks at Bengaluru. "To have that kind of mindset for someone who's probably playing his fourth Test match, it shows a lot of maturity and understanding about his own game, which is a good sign for us moving forward. Batting at number six in these conditions is never easy. The game is always in the balance and can shift either way in that position. He grabbed that opportunity really well and made it count."
Earlier, in the post-match presentation ceremony, Iyer gave an insight into his attacking approach in the match, where he didn't care about getting his second Test century in the first innings and the want to bat more balls in the second essay. "That wasn't my normal approach, but I saw the batters struggling, so I knew I had to be attacking and put the pressure back on the bowlers. I was batting on 55 when the bowlers came in, and then I added around 40 more runs."
"I could have got out earlier as well, so didn't worry about the hundred. I just wanted to bat as many balls as possible (in the second innings), knew that I had some support down the order with Shami and Bumrah. I have always dreamt about playing Test cricket for India, good feeling to come and contribute, want to keep this going."
If Iyer continues to show the maturity and sortedness seen on a difficult pitch at Bengaluru in future, then Sharma has got more chances to be 'very impressed' by his fellow Mumbaikar's batting.