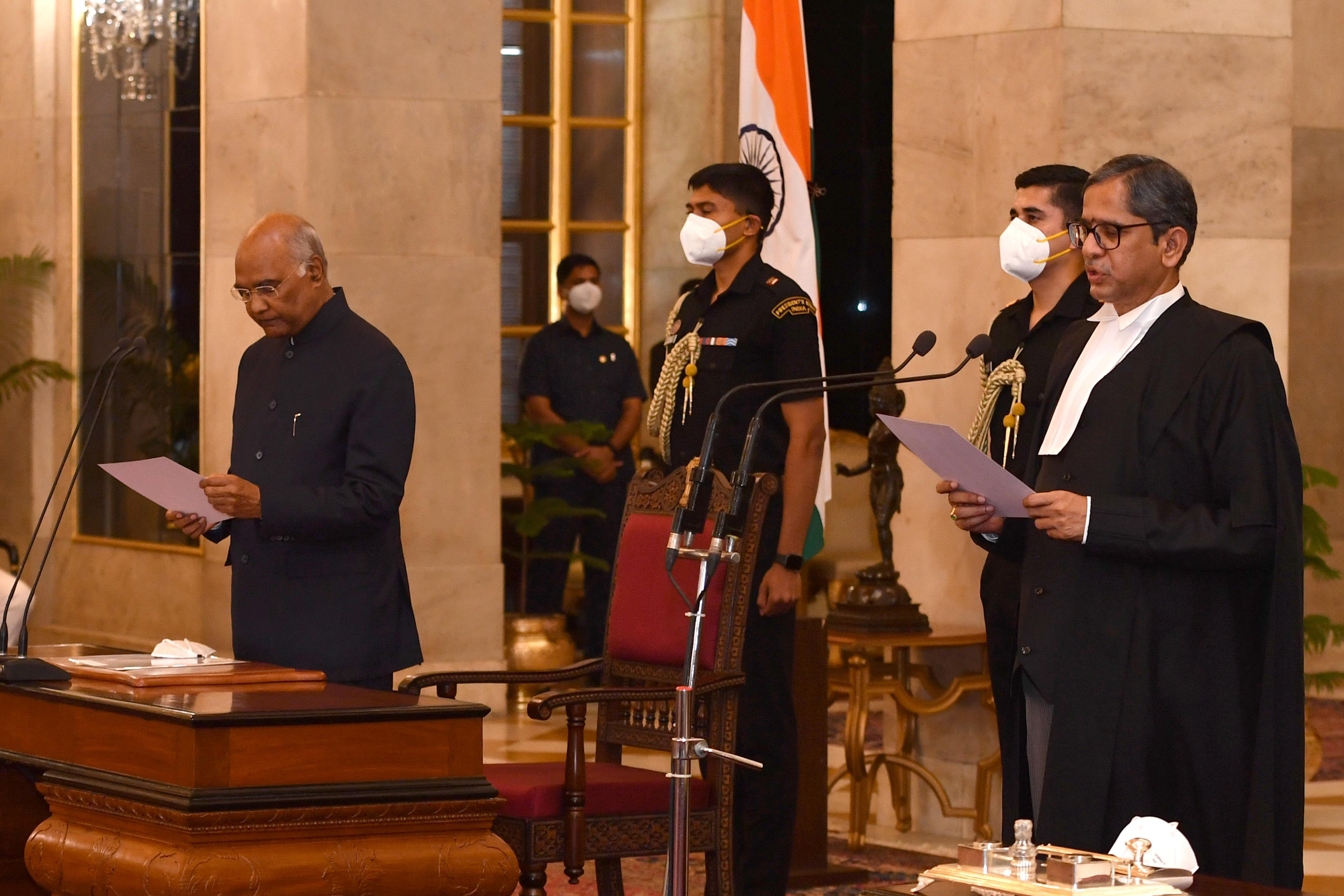 New Delhi:Justice Nuthalapati Venkata Ramana was sworn in as the 48th Chief Justice of India (CJI) today morning.
President Ram Nath Kovind administered the oath to Justice Ramana in a small ceremony at Rashtrapati Bhavan in the national capital.
The ceremony took place at 11 am following all COVID-19 guidelines.
On April 6, 21, a notification was issued by the Department of Justice, Ministry of Law & Justice regarding the appointment of Ramana as the Chief Justice of India.
Following this, Justice Ramana took over from retired CJI SA Bobde on Friday.
The CJI will serve one year and 4 months and will step down on August 26, 2022.
In saying goodbye to Justice SA Bobde, who retired as Chief Justice yesterday, Judge Ramana said, "We are going through testing times as we battle the Covid wave. Lawyers, judges and court staff are all affected due to the virus.
Some hard measures may be necessary to break the chain of transmission. We can defeat the pandemic together with dedication."
Justice Ramana is a well-known personality in India. He has been a part of many landmark judgements including the addition of the Chief Justice's office under the ambit of the Right to Information Act.
About Justice Ramana
-Born on August 27, 1957, to agricultural parents in Ponnavaram Village in Krishna District in Andhra Pradesh, Justice Ramana, 63, is the first judge from the Andhra Pradesh high court to become the CJ.
-Justice Ramana during his academic years was known for his activist views concerning the issues affecting farmers and industrial processes.
-Justice Ramana was a journalist with a leading Telugu daily before switching to law.
-On February 10, 1983, Justice Ramana registered himself as a lawyer.
-As an advocate, he specialised in constitutional, criminal, service, and inter-state river laws at the Andhra Pradesh high court
-Thereafter he was appointed as a permanent judge of the Andhra Pradesh High Court on June 27, 2000
-In 2013, Justice Ramana was promoted as Chief Justice of the Delhi high court and in 2014 to the Supreme Court.
-In an almost four-decade-long career of Justice Ramana, he has practised in the High Court of Andhra Pradesh, central and Andhra Pradesh Administrative Tribunals and the Supreme Court of India in civil, criminal, constitutional, labour, service and election matters.
-He has also specialised in constitutional, criminal, service and inter-state river laws.