Wimbledon:-Unseeded. Unstoppable. Unthinkable. In one of the great Centre Court surprises – she even shocked herself – Marketa Vondrousova defeated Ons Jabeur to become the first unseeded ladies' singles champion.
The history books won't record this but the world No.42 from the Czech Republic – who until this summer had only ever won one match at the All England Club, and who thought playing on grass was "impossible" – might also be the most tattooed winner of the Venus Rosewater Dish.
World No.42 is first unseeded player to lift Venus Rosewater Dish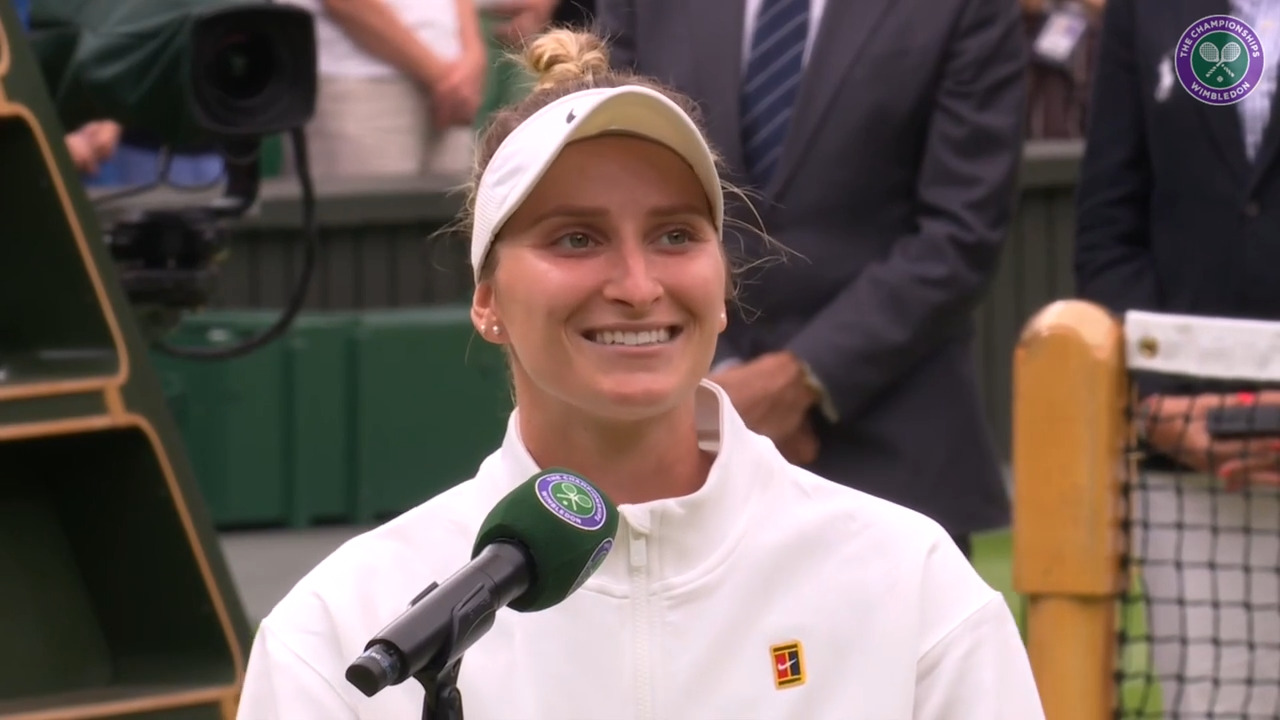 In addition to all her other body art – including the words 'no rain, no flowers' to encourage her to keep going in hard times – this leftfield – and left-handed – champion might be tempted to now add a tattoo saying 'no seeding, no problem'. 
When you're playing as well as Vondrousova has been this Fortnight, you hardly need any protection in the draw; it's others who need protecting from you.
Having already beaten one Centre Court darling this Fortnight – Elina Svitolina in the semi-finals – Vondrousova went on and stopped another.
Trailing 2-4 in the opening set and then 1-3 in the second, Vondrousova somehow did this in straight sets, falling on to the grass after a volley winner that completed her 6-4, 6-4 victory. To think that this time last year she had a plaster cast on her wrist and came to London as only a tourist.
The roof was closed, keeping the weather out and the emotions in. Outside, with a yellow warning for high winds, the weather felt better suited to the America's Cup than tennis.
Inside, it was perfectly still. When it came to the playing conditions anyway. This occasion moved you in other ways: everyone left Centre Court feeling emotionally windswept.
As has been said, Centre Court is a lovely place where horrible things can happen. For Jabeur, who had been hoping to become the first Arab and first African woman to lift this trophy, this was another wretched finish to Wimbledon after losing to Rybakina in last summer's final.
Once again, this was an occasion that left Jabeur, known as Tunisia's 'Minister of Happiness', looking lost and chewed-up.
Going into The Championships, these two women had contrasting approaches.
Jabeur's obsession with the Venus Rosewater Dish is such that she had an image of the trophy as the background on her phone throughout last season's Championships. She has been no less committed this summer.
Vondrousova, meanwhile, went into her first round match saying to herself, "let's try". No more than that. Tellingly, Vondrousova's husband hadn't organised a catsitter, and had stayed at home, until the final.
One thing wasn't new: a Czech-born left-hander lifting the Venus Rosewater Dish, as the watching Martina Navratilova won this nine times and Petra Kvitova was the champion in 2011 and 2014.
What was fresh was seeing an unseeded player going through the draw.
Since tennis went professional in 1968, no unseeded woman had previously appeared on the second Saturday of Wimbledon. Vondrousova was the first since Billie Jean King in 1963 and, in a link between past and present, King was in the front row of the Royal Box to witness this.
For all the colour and flavour in Jabeur's game, Vondrousova hardly plays vanilla tennis. Far from being a couple of modern baseline bashers, these two produced craft and creativity from the very first point with Vondrousova looping a lob over Jabeur.
She didn't stop with the variety. Or with the surprises.