Railways Special Express reaches Lucknow with 30,000 litres of life-saving gas
New Delhi:Due to the surge in Covid-19 cases in the country, hospitals in India are facing a massive shortage of medical oxygen. In a bid to bring much-needed relief to various states who are oxygen-starved, Indian Railways has started 'Oxygen Express,' the first of its kind rail operation in Indian history to ferry oxygen tankers from one region to another to treat Covid patients.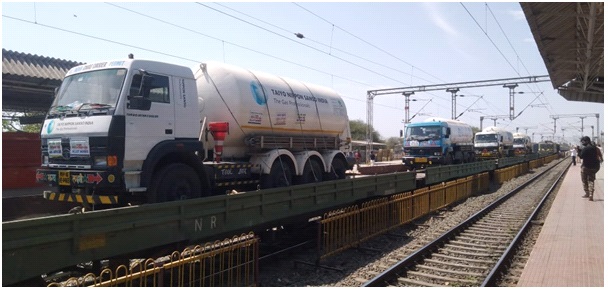 To meet the high demand for the critical gas in various districts of Uttar Pradesh, Oxygen Express trains packed with around 30,000 litres of liquid medical oxygen (LMO) reached Lucknow's Charbagh Railway Station on April 24. The train loaded with three truckloads of LMO left Bokaro, Jharkhand on Friday, April 23. Of the three trucks that arrived in the state, one was offloaded in Varanasi while two were brought to Lucknow. According to officials, the quantity of oxygen that has reached Lucknow so far is enough to meet half of the total oxygen demand in the state capital.
Oxygen Express Trains: Curbing Oxygen Crises
In order to curb the oxygen crisis, the Centre has allowed industrial oxygen to be diverted for medical use. Upon receiving requests from various states considering the massive shortage of oxygen, Indian Railways ramps at various places immediately for the movement of liquid medical oxygen tanks by operationalizing Oxygen Express through green corridors in a bid to ensure faster transportation. The traditional oxygen tankers would usually take nearly 5 to 6 days to bring in oxygen from Jharkhand, Bengal and Odisha, but the Indian Railways is efficiently providing the essential services 2 times faster. The Ministry of Railways pressed in Roll On Roll Off (RORO) services for the same.
States where Oxygen Express Reached till now
Maharashtra
The first Oxygen Express carrying seven tankers filled with life-saving LMO reached Maharashtra from Visakhapatnam on April 23. The train which arrived at Nagpur brought relief to the state which is suffering from a shortage of medical oxygen. Each tanker carried a capacity of 15 tonnes of liquid medical oxygen.
Uttar Pradesh
An Oxygen Express train carrying three tankers of liquid medical oxygen arrived in Uttar Pradesh from Bokaro in Jharkhand carrying a capacity of 15,000 litres of medical oxygen.
Oxygen Express has come as a boon in curbing the oxygen crisis that has emerged following the sudden spike in its demand. In these unprecedented times, railways are working around the clock to supply the essentials and in view of this, many more states have pushed the demand for medical oxygen tanks.